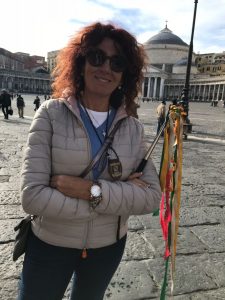 ANNA LEVA [Suggested and recommended by Rick Steves ,the famous Book writer]

About us
Hello!!!!! We are a group of multilingual tourist guides and authorized tour leaders operating all over the Campania Region and have formed a tourist- services center
Our specialty is making wonderful days for people like you in the most beautiful gulf in the world, and we've been doing it since the 1980's.
Our many happy customers rave about their experiences with us and we think you will too.
For generations our family of tour guides have shown you the marvels of Pompeii, Amalfi, Capri and Naples, a city that was considered so beautiful that they said you simply had to see Naples, and die…
We are specialists in history of art, fashion, handicrafts, restoration and gastronomy and organize walking tours, visits to museums, etc.
If you are looking for a private tour, we specialize in getting the very best out of your day for you.  All the amazing features of our daily group tours are fine-tuned and customized to suit your individual tastes and desires. We are passionate about this magnificent region and really want to show it to you.
We plan tours with many possibilies in mind, including tours for families and students of all ages, wedding and conference groups.  

We are available at all hours of the day and night to show you around or take your bookings, 365 days of the year.ave walking tours around various cities, day-trips, shore excursions from visiting cruise ships, private limos and boats, wine and food tastings, cooking–educational experiences and classes. 
Please contact us for museum bookings, museum ticket prices and more information:
We offer competitive prices because we are not a travel agency and we do not charge a commission. You pay your licensed tourist guide directly.